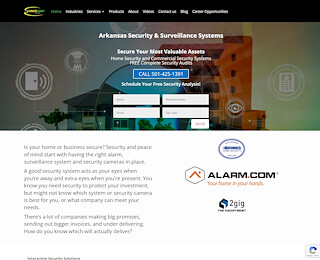 Interactive Security Solutions protects Little Rock with exceptional security systems with the latest technology- all at affordable prices. Enjoy free installation for your home or business with no land line needed. With new security systems, you can control your alarm remotely by using your phone, and with fully automated systems, you can control door locks, thermostats, lights and much more.
If you live in or around the Little Rock area and are looking at security systems to protect your home and family, take a look at the latest in technology from Interactive Security Solutions. Steve Kabat, owner of Interactive Security Solutions in Little Rock provides this information about the company and its security systems:
Our marketing strategy is simple- give people the best technology, at the best price, and the highest quality service. Then they will refer their friends and family. After fourteen years in the security industry, I have done everything from technician to managing a sales force. I gained my electronics experience in the U.S. Navy as a CTM Electronics Technician and managerial experience from making Brinks Home Security the largest dealership in the nation. After changing its name to Broadview, Brinks security was bought by ADT. We were faced with finding another company to represent. We are proud to be a dealer for Monitronics. Monitronics Carries an A+ rating with the Better Business Bureau.
Steve Kabat is the Owner of Interactive Security Solutions, with 20 years of experience in the field. Steve has learned the industry from the ground up. Beginning as a salesman, he soon began to install alarm systems. Customers wanted more options for better security so Steve learned video surveillance, access control, and FIRE. Steve has developed our access control, fire, and cctv/ surveillance video programs to be very effective, affordable and easy to use. Weather you are looking for an entry level system or the top of the line super hi-definition server based IP system or somewhere in between, Steve provides Little Rock residents with security systems that are perfectly suited to match their individual needs. Because of his vast experience in the industry he has become a valuable resource for the customers of Interactive Security Solutions.
Interactive Security in Little Rock provides state of the art security systems for both home and business. They sell the most advanced 24 hour security system available on the market today- the 2GIG system, with a control panel, passive infrared motion detector, 4-button key ring remote, and recessed door contact.
The 2GIG uni is an all-in-one Little Rock home security system that is as reliable as it is inexpensive, with an entirely Wireless interface that makes installation a breeze and eliminates the risk of faulty wiring. Featuring a user-friendly color-touch screen control panel, 3 door contacts, 1 powerful PIR motion detector, and a convenient portable keyfob, you'll be able to leave your home knowing it is safe and protected. The 2GIG is available in several model variations.
Interactive Security Solutions invites you to their Web site at interactivesecuritysolutions.com to learn more about their security options. You're also welcome to call a security specialist at 501-470-2795 if you have questions about any of their products or would like to set up an appointment for a free installation.