Arkansas Residential and Commercial Security Systems
Secure Your Most Valuable Assets
Schedule Your Free Security Analysis!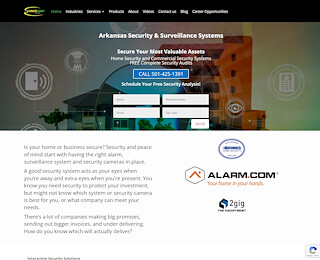 Technology has evolved immensely in the past ten years, and so have alarm companies in Little Rock, AR. Interactive Security Systems offers interactive alarm systems that display the very best of today's technology. As the need for home security rises, so does the need for forward-thinking alarm companies in Little Rock, AR. Interactive Security Solutions is on the cutting-edge of the alarm/security industry, and we are always in search of the latest and greatest products to keep our clients' homes safe.
Interactive Security Solutions has partnered with Synergy Security and Automation to bring the best alarm on the market today to Little Rock, AR. The Doorbell Camera Alarm makes alarm systems of the '90s and the early 2000s obsolete. Instead of an obnoxiously loud noise that blares when you don't want it to or won't shut off, the Doorbell Camera Alarm is a comprehensive and interactive home alarm system that puts full control into the palm of your hand.
Introducing the Doorbell Camera Alarm
The Doorbell Camera Alarm allows you to answer the door from your smartphone. Any time someone comes to the door, you will get instant footage of whoever is at your door on your phone, and you will be able to interact with them in real-time. As soon as someone presses your doorbell, the Doorbell Camera Alarm sends a live video feed to your smartphone that enables you to not only see who's at the door but to also hear and speak with them. If it's someone who you know and want to let in, you can do so with the click of a button on your smartphone. How does this technology work? Very simply.
All You Have to Do is Download an App
All you have to do is download the Doorbell Camera Alarm app onto your smartphone. The Doorbell Camera Alarm integrates with the application and gives you the ability to control all of your smart home devices from your phone. The Doorbell Camera Alarm offers a wide array of useful interactive security features. For example, you can set your porch lights to turn on automatically any time the doorbell camera detects motion at night.
Additionally, the Doorbell Camera Alarm lets you view video clips that are recorded and saved automatically anytime motion trips the doorbell camera. The doorbell camera comes with a variety of add-ons and upgrades, such as the ability to view system triggered clips and notifications, such as when windows are opened, doors in the home are opened, and when somebody enters a room in your house.
Contact Interactive Security Systems
If you are interested in learning more about the Doorbell Camera Alarm, contact Interactive Security Systems today. Other alarm companies in Little Rock, AR do not offer this technology, and you can get it for your home from us at an affordable price. We also have other great security cameras and products, and Interactive Security Systems offers full installation when you purchase a home security product from us. We can upgrade your current home security system, or we can install a brand new one. Give us a call to discuss your home alarm and security needs, and we'll come to your home for a free estimate and proposal.
Alarm Companies Little Rock Ar
We welcome your comments!